Articles
/
A breathtaking trip to the Edge of the World
A breathtaking trip to the Edge of the World
رحلة تحبس الأنفاس إلى "حافة العالم"
Source: Nadeen Al-Wazani
Edge of the World is one of the most unique natural tourist attractions in the world. It is a deep rocky cliff overlooking a vast valley that extends as far as the eye can see, at a height of 1,500 meters. As an extension of the Tuwaiq mountain range, the site is located in a desert area 90 kilometers north of Riyadh. Scientists have theorized that it was the bottom of a large sea in the Arabian Peninsula millions of years ago.
Although getting to Edge of the World is a bit difficult – it takes about two hours including a 35 km drive on a dirt road – the trip is worth it to see the breathtaking spectacular terrain. It is frequently visited by many foreigners; especially Europeans living in Riyadh. Weekly trips are usually organized by specialist tour companies.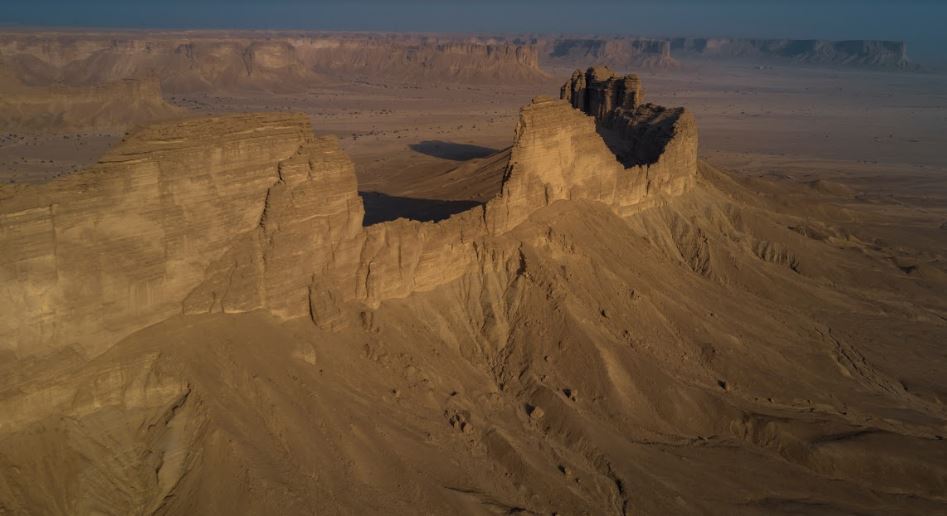 Preparing for the trip
It is best to visit in autumn or winter. You should go in a group, take all the necessary safety precautions and drive four-wheel-drive cars with full gasoline and essential equipment such as tire replacement tools.
You should also make sure to start your trip early in the morning so you don't miss closing time at 6 p.m. The trip is best suited to those who have a decent level of fitness as it requires a lot of walking and climbing. It is also recommended not to take children because of the many dangerous slopes. Don't forget to take your sunglasses and hat and make sure you have plenty of water.
When you get there, you can park your car in the parking lot, climb up to the edge, breathe in the fresh desert air, enjoy watching the flying eagles and birds, meditate by the rare stone formations and view the vast valley extending into the horizon, as if you are truly standing on the edge of the world.
During the rainy winter months, it is possible to see a series of valleys filled with water. As you make your way back, you will see camels and cattle herders by the sides of the road. For an even more authentic experience, you can stay overnight in the desert and camp with the Bedouins who burn fire under the Acacia trees and eat their food freshly cooked on firewood.
---