A rock arch carved by nature
خشم أبو مخروق قوس شكلته الطبيعية
Source: Nadeen Al-Wazani
Travel 160 kilometres southwest of Riyadh and you will come across the famous Tuwaiq Mountains escarpment. However, take the time to explore further and you will also find a spectacular semi-circular rock arch that is much loved by tourists travelling out of the capital. Known as the Natural Arch, the location regularly attracts amateur photographers and mountaineering enthusiasts who enjoy camping under a starlit sky, hiking and exploring the surrounding wilderness.
Formation
It takes thousands of years for mountains like the Natural Arch to form, usually through rivers flowing against fragile and soft rocks and causing them to erode into their striking shapes. The hard solid layer at the top of the eroded rocks remains, helping to form a naturally carved bridge.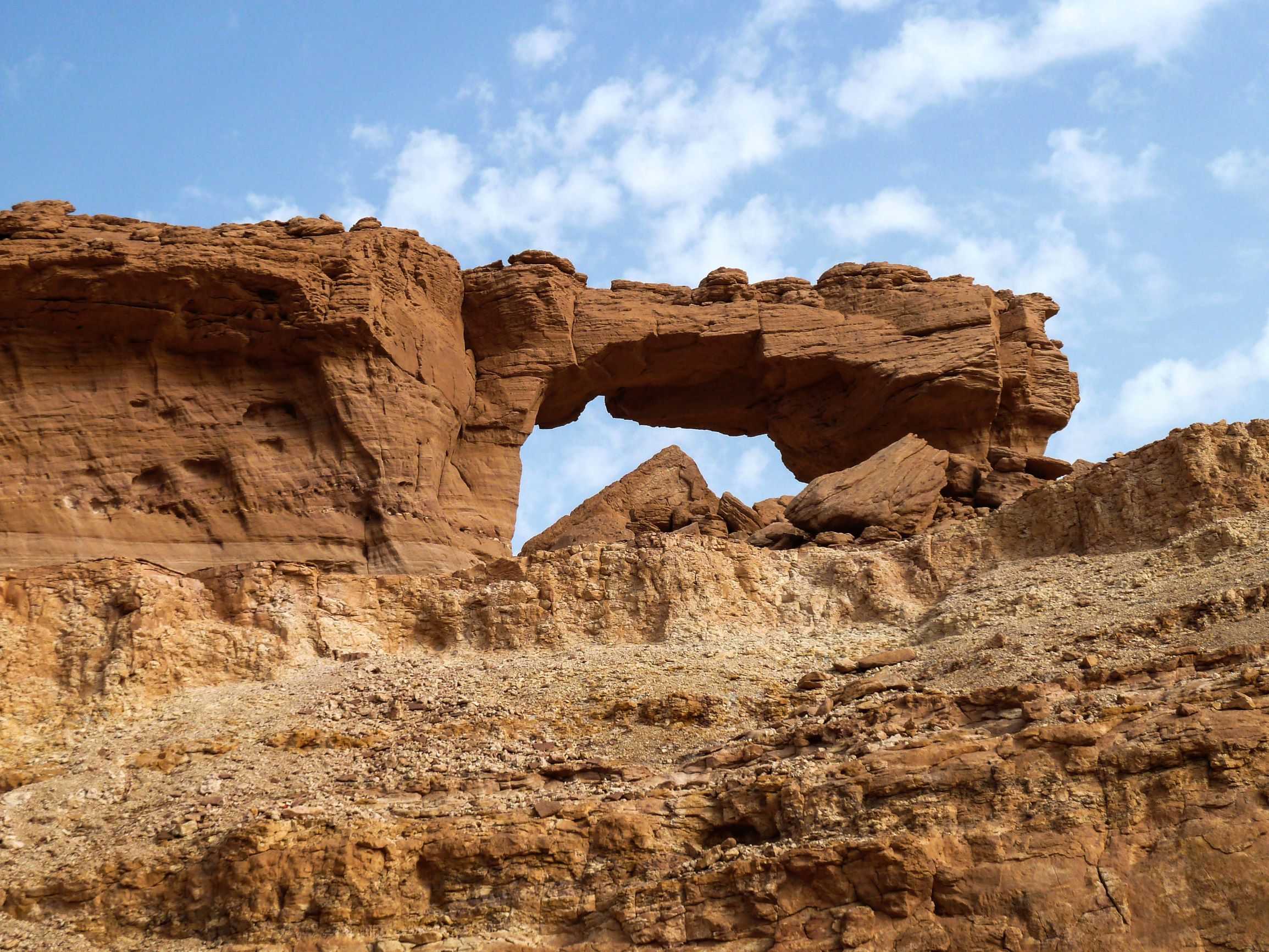 Expedition
Travel two hours from Riyadh on the Makkah road and you will then reach the exit that takes you to the Natural Arch. It is highly recommended that you go with an experienced guide, especially as you have to walk long distances on an uneven track. When climbing up the mountain, it is also suggested that you use appropriate footwear so you can truly enjoy the natural scenery that attracts tourists from all over the Kingdom. If you are a camping enthusiast and want to get away from the hustle and bustle of the city, the mountain is ideal for camping with friends under a starlit sky, hiking, exploring the wilderness and meditating in beautiful landscapes sculpted over the ages.
Tuwaiq Mountains
The Tuwaiq Mountains are among the best locations for desert tourism and mountaineering enthusiasts. It is characterized by its varied terrain, valleys, caves and deserts. It extends about 800 kilometers from the Nafud Al-Thuwairat desert in the north to Wadi Al-Dawasir and the Empty Quarter in the south. The mountain range contains multiple archaeological landmarks, most notably petroglyph sites containing rare inscriptions that accentuates the overall beauty of the location.
---