Articles
/
Abu Makhrouq Mountain of Riyadh
Abu Makhrouq Mountain of Riyadh
جبل"أبو مخروق" شاهد على ذكريات أبناء العاصمة
Source: Khuloud Al-Saleh
Abu Makhrouq is a beautiful landscape carved by nature over a long period of time to form an attractive tourist attraction in Riyadh. This important historical landmark has a semi-circular arch shape.
The history of this site has a lot of nostalgia, and holds a special place in Saudis heart, especially since King Abdulaziz opened it in 1902 to become a private park before it was opened to the public.
Many travelers and historians mentioned this mountain in their books such as Ibn Jubeir, Ibn Battuta, Ibn Al-Mujawar, Yaqot Al-Hamwi, as well as Saudi historians such as Abdullah bin Khamis and Hamad Al-Jasser.
This mountain was called Al-Khirbeh Mountain, but later named Abu Makhrouq Mountain due to its eight-meters-diameter opening above it. This mountain was a road for commercial caravans between Riyadh and east and north of the Kingdom, where merchants used to rest before entering Riyadh city.
Abu Makhrouq is known to most of those who lived in the seventies and eighties, it was the most famous hiking place, where families and picnickers spent the most beautiful times under the arch trying to climb it while enjoy fresh air.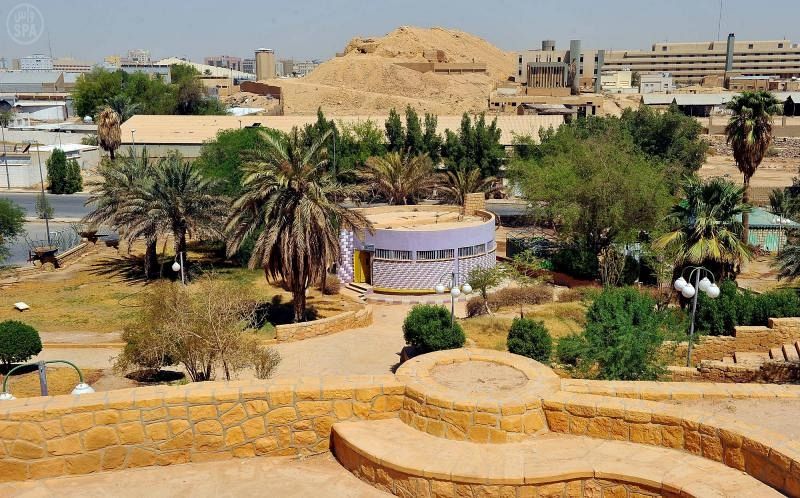 The mountain park
Abu Makhrouq Mountain is surrounded by forty thousand square meters park that was Riyadh's favorite entertainment place and is now rehabilitated to suit visitors. The park is surrounded by a wall of natural stone to comply with the feel of the mountain. It includes a large water pool, children's playground, green vast areas, administrative buildings, a mosque, and a local market that opens during the weekend.
---