Articles
/
Al-Qatt Al-Asiri – a treasured art form of the South
Al-Qatt Al-Asiri – a treasured art form of the South
"القط العسيري" الفن النسائي الذي أبهر العالم
Source: Alaa Al-Bahrani
Al-Qatt Al-Asiri is a traditional art that is unique to Saudi Arabia's Southern region. It is a form of interior wall paintings created by women and has dazzled the world with its perfect murals, geometric motifs and choice of colors derived from the picturesque Asir nature. The French researcher Thierry Mauger was the first to shed light on this art and wrote about it in his book "Colours of Arabia, the Painter's Garden, the Architecture & Murals of Asir". He commented that these exterior designs were akin to a "festival" of multicolored designs covering walls, ceilings and doors, "as if Asir houses were gobbling up colors".
Although it is not clear exactly when the art-form emerged, it has become well-known locally and internationally. In 2015, a painting depicting Al-Qatt was exhibited at the United Nations in New York; it was an 18-meter-long masterpiece painted by 12 women from Asir and entitled "Our Mother's Home". Al-Qatt art was also recognized by the UNESCO Intangible Heritage List in 2017.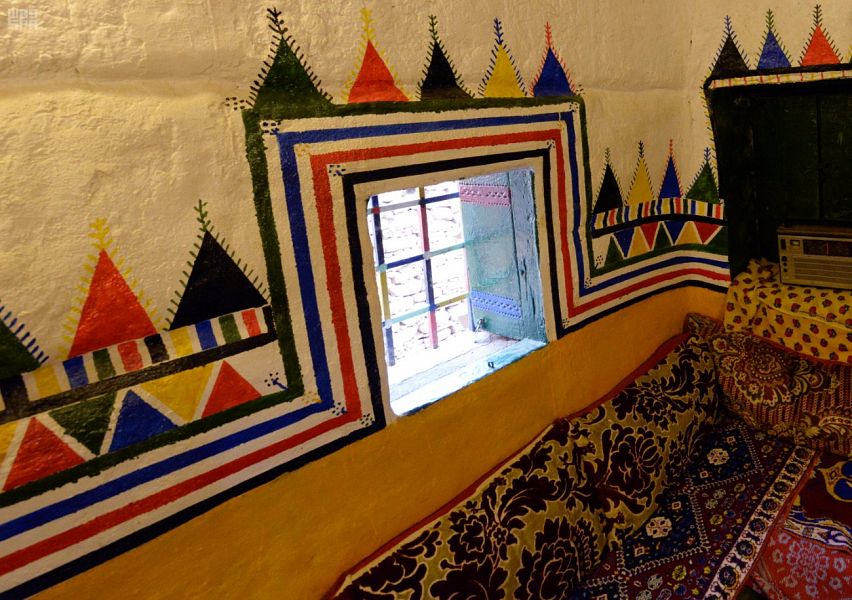 What does Al-Qatt mean?
The word "Qatt" means "calligraphy", "sculpture" or "cut". The word "Qattata" is therefore used to refer to the person performing this art; another word derived from Qatt is "Taqteet", which means to draw and engrave. In the early days, women practiced the art. Men in the past were in charge of building and maintaining houses from the outside; women on the other hand were required to decorate the interior of their houses by drawing symmetrical shapes and motifs on the interior walls. These paintings are inspired by the surrounding nature and natural colors.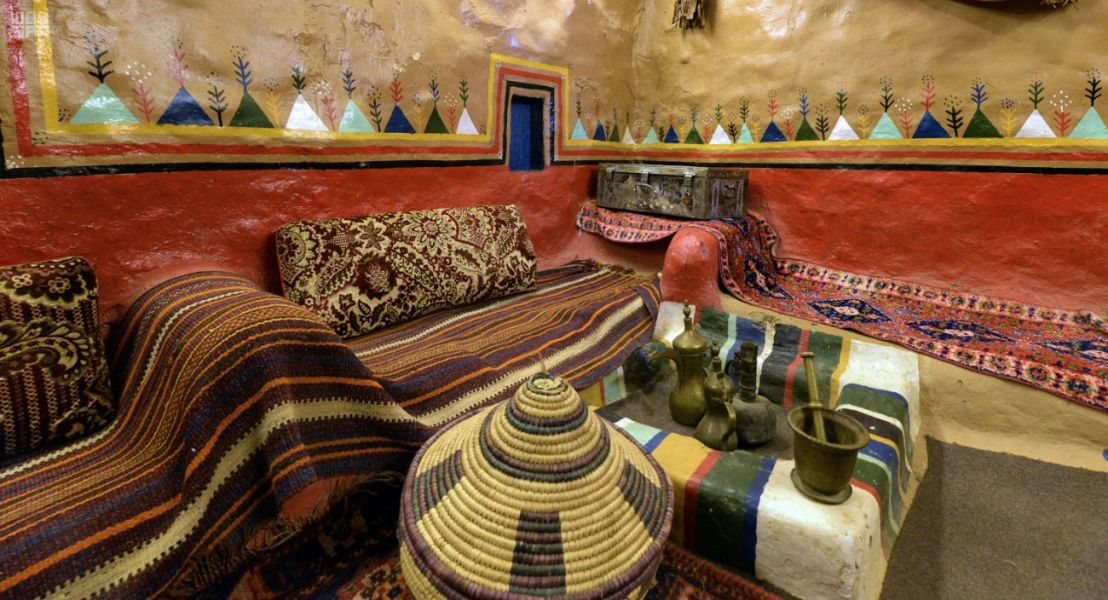 Origin of the colors and motifs
"Taqteet", or the art of Al-Qatt, begins with preparing the wall by making a powder of gypsum layers and Arabic gum to form a mixture that gives the walls a shiny appearance and help artists draw their lines easily. To prepare the colors, women grind the colored materials extracted from natural ingredients to form a fine powder and then mix it with Arabic Gum – this makes gooey pigments and the gum ensures their longevity. Women use natural dyes derived from red rocks, turmeric, coal and grass; blue colors, however, came into use at a later stage when traders started bringing them to the region. Women used to sketch the shapes using a brush made from goats' tail hair.
The motifs and lines on walls have several interpretations. The horizontal lines indicate stillness and stability; curved lines indicate vitality and flexibility. The engravings reflect certain indications – "Aryash (plants)" for example signify the relationship between females and plants, while "Mahareeb (niches)" symbolize the religious practices cherished by the Asir community. Studies show that motif patterns vary according to different geographical Asir locations.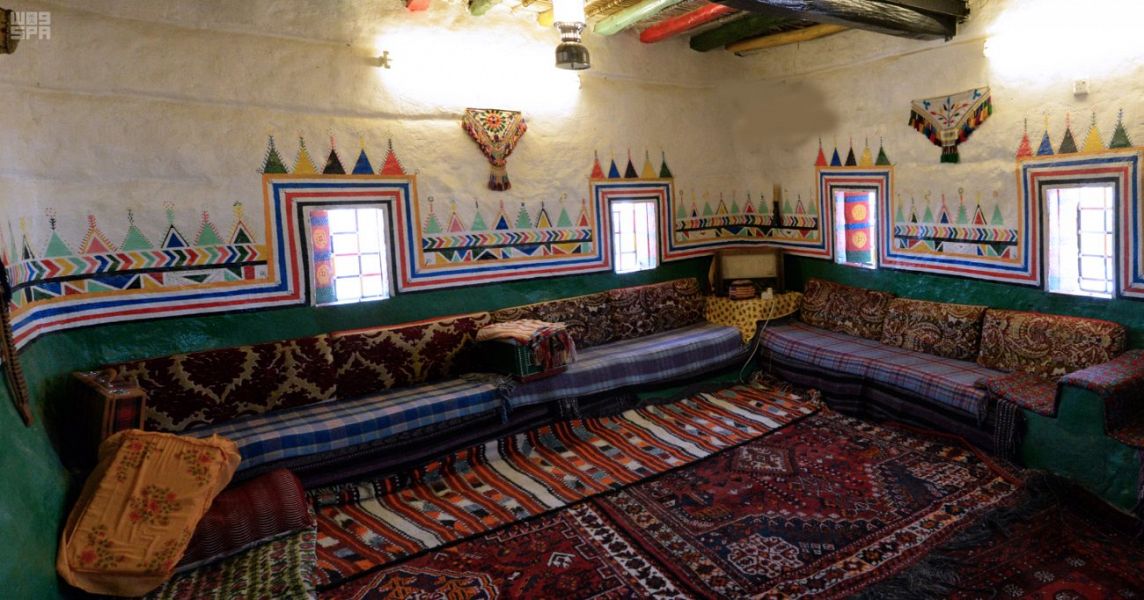 Relationship with the Asir community
Al-Qatt art is still preserved by the local Asir community and is now commonplace in the most important hotels and tourist places. This art is also linked to past social bonding practices, where after the construction and maintenance of houses were completed by men, women met to finish decorating houses from the inside.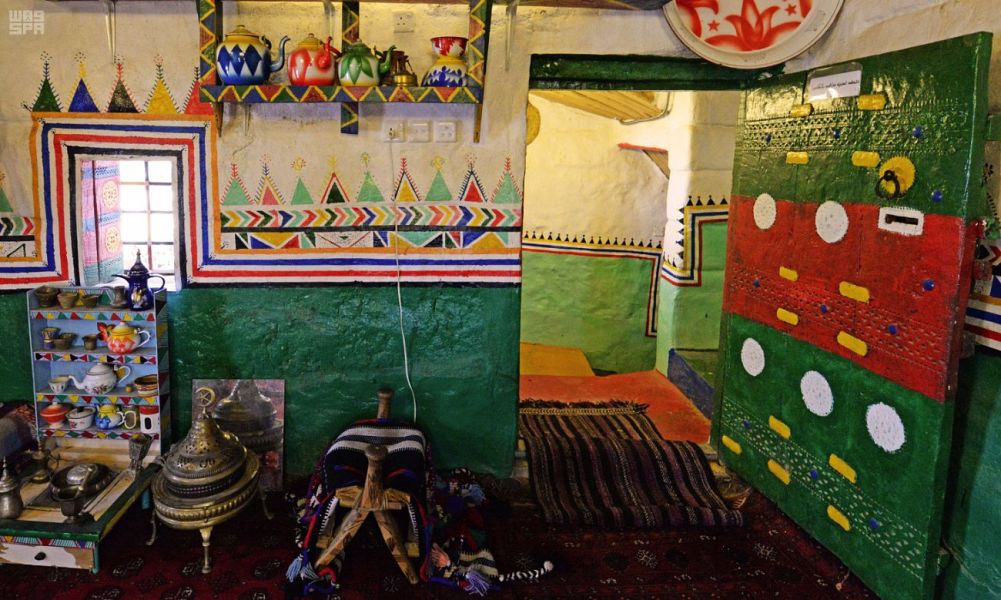 One of the famous practitioners was the late folk artist Fatima Abu Qahas, who was considered a prominent Asiri figure due to her mastery of Al-Qatt. She had practiced it professionally for 70 years before she passed away in 2010. Abu Qahas worked on decorating many tourist places such as Razih Fort and Alwan Fort and designed a large mural hanging at Abha Hotel.
Al-Qahas was recognized as the most important Saudi heritage figure at Janadriyah Festival in 2007. She mastered this art because of her difficult living conditions because she was the main provider for her three children after the death of her husband. She inherited this talent from her mother and mastered it at a young age without receiving any formal education or training.
---