Articles
/
Uncovering the proud history of Ahsa's Ibrahim Palace
Uncovering the proud history of Ahsa's Ibrahim Palace
قصر إبراهيم في الإحساء يرمز للفخامة والقوة
Source: Abeer Al-Amoudi
The historical Ibrahim Archaeological Palace in Al-Ahsa, also known as the Al-Dome or Al-Kut Palace, is one of the most important palatial buildings in the Kingdom. It is situated in Al-Hofuf, historically a rich and powerful region due to its strategic location on one of the most important trade routes in the world.
Location and construction
Ibrahim Palace is located in the Al-Kut neighborhood in the center of Al-Hofuf, spanning an area of 18,200 square meters. Its construction dates back to the era of the Jabrites.
The palace was built from local materials such as mud, palm fronds, sandalwood and stone incorporating Islamic and military architectural techniques. The former style is evident in the semi-circular arches and prominent domes, wooden minaret and mihrab (pulpit). The latter is demonstrated by the eight huge rectangular and circular towers surrounding the palace, barracks and horse stables east of the palace.
Palace facilities
The palace features many facilities including the following:
entrance to the palace that features a guardroom monitoring entry and exit
Dome Mosque located on the southwestern side and which is distinguished by geometric designs, huge dome, stucco windows and Islamic motifs
command cabin east of the palace consisting of four rooms
soldiers' barracks featuring long, open wards with many openings and doors
steam bath building featuring Islamic-style saunas
palace well of up to 20 meters in depth located by the middle of the western wall
service wing devoted to preparing food for the soldiers
officers' bedroom suite with five small rooms overlooking a corridor leading up to a lounge with terraces
horse stables
armory
communications room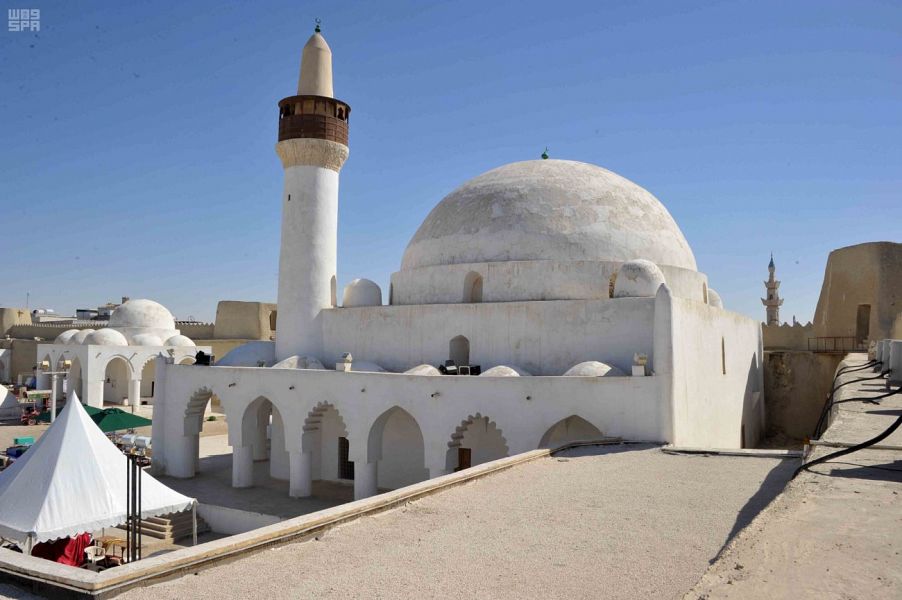 ---