Articles
/
Ithra attracts 1 million visitors
Ithra attracts 1 million visitors
ما الذي جذب مليون شخص لزيارة مركز "إثراء"؟
Source: Fatima Al-Saleh
The King Abdulaziz International Cultural Center (Ithraa) has welcomed about one million visitors from both inside and outside the Kingdom, who participated in inspiring local, regional and international events and activities. It is considered the most prominent cultural landmark in the Eastern Province and an important edifice of culture and creativity in the Kingdom.
Fatima Al-Rashed, Director of the Center, explained that the mission of the enter is to enrich the nation and its present and future generations within three axes, namely: the development of cultural and scientific knowledge, stimulate creativity and innovative thinking, and build bridges of civilizational communication between cultures and peoples.
Al-Rashed said: "The million visitors are a million knowledge seekers to develop skills, refine creativity and bring about innovative change in ways of thinking based on inspiration and reliance on human capabilities, looking forward to millions of visitors in the future as a global cultural and tourism destination."
She also pointed out that the percentage of Saudi visitors was over 83% of the total visitors, while 17% of non-Saudi visitors, and total of 50% of visitors under 30 years-old.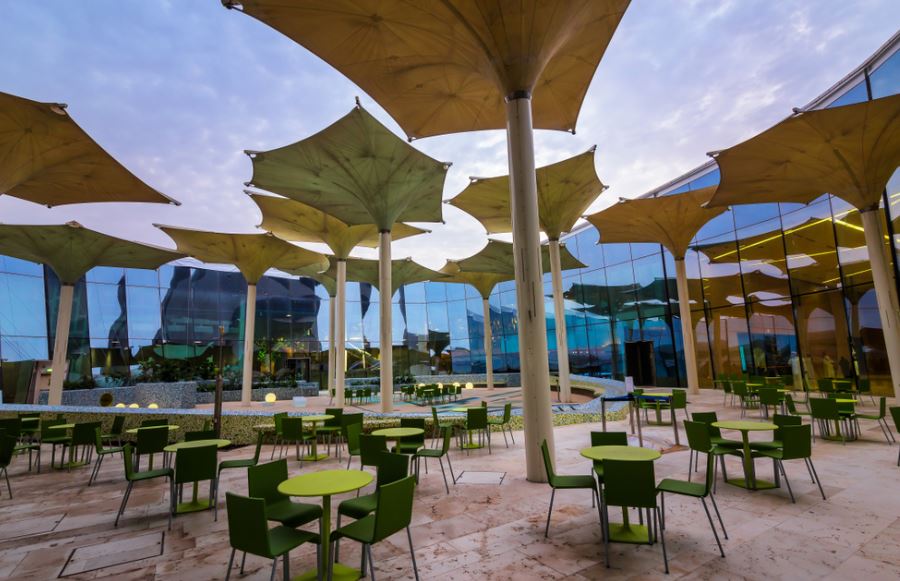 She clarified about 1,000 training workshops of regional and international initiatives and programs organized by Ithraa served 10,000 participants. In addition to 36 theatrical performances varied between the Russian Marinski Orchestra, the Vienna Orchestra and the Italian la Scala, which were attended by more than 50,000 visitors. In addition to 1300 cinema shows, permanent and temporary exhibitions, including international exhibitions such as Leonardo da Vinci and Edvard Monk exceeding 20,000 visitors.
Al-Rashed also mentioned that Ithra's support is not limited to the center, but also exceeds the local content. The center has produced more than 85 products, ranging from audio-visual materials, Saudi works of art, award-winning publications and films, including the Saudi film "Zero Distance" the winner of the Alexandria Film Festival produced by Abdulaziz Al-Shallahi who received the Golden Palm Award.
Ithraa produced 11 Saudi films, most notably named "Jude", the first long feature film about the development of the Kingdom and its most important characteristics. Ithra Art Prize, in collaboration with the Art Dubai Foundation, which is in its third year, aims to support artistic creativity and talent in Saudi Arabia.
She pointed out that Ithra's mission was contributed to by about 3,000 Saudi youth volunteers who have registered nearly a quarter of a million volunteer hours and received about 40,000 hours of training through workshops that promote life skills.
Al-Rashed explained that the Center was distinguished by three huge pioneering programs: «Tanwen», which is the most innovative season of its kind in the region that aims to attract annually 100,000 visitors and participants, by allowing interaction with international experts. «Read» the program of the national reading competition, which aims to stimulate the love of reading among young boys and girls in various regions of the Kingdom. «Jusoor» program which offers Saudi culture and creative talents to 50 cities worldwide and witnessed by about half a million visitors.
---