Articles
/
Saudi National Museum documents ancient and modern history
Saudi National Museum documents ancient and modern history
تعرف على تاريخ السعودية في 90 دقيقة بالمتحف الوطني
Source: Fatima Al-Saleh
If you want to experience the kingdom's ancient and modern history, you do not need to read thousands of books. One visit to the largest museum in the Kingdom, the Saudi National Museum at the heart of the capital Riyadh, will take you with less than 90 minutes to a fun tour among halls rich in history of authentic Arab culture. The museum is characterized by its modern architectural design and picturesque gardens, taking visitors on a charming interactive journey to explore old and modern ages.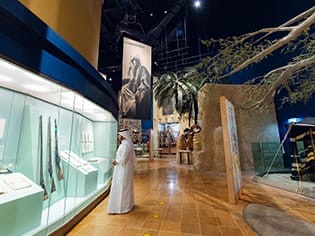 Explore history
Explore in the "Arab Kingdoms" hall the most outstanding Arab civilizations from pre-Islamic times to the late Arab Mamluks. Watch through the screens some of the earliest Tamud, Aramaic and Islamic inscriptions carved on stone panels, as well as a large collection of ancient monuments such as Assyrian murals, ornamental jewelry and pottery. Visit the Pre-Islamic hall, in which you can see its largest cities, ancient trade routes, and markets of the Arabian Peninsula, carrying incense, pearls and other goods to the world.
Journey to Islam
Witness the life of the Prophet (peace be upon him) in the "The Prophet's Mission" hall, which showcases his glorious history from his birth in Mecca to his migration to Medina, through the display of huge ceramic murals and 500-years-old handwritten Qur'anic manuscripts. Continue your journey in "the Islam" and "the Arabian Peninsula" halls to learn about the beginnings of Islam and explore the most prominent early Arab contributions to science, medicine and astronomy.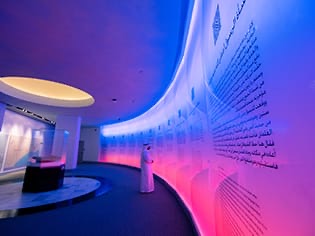 The birth of a nation
The remaining halls document the history of the Kingdom of Saudi Arabia from its first and second states to its unification in 1932. Explore there the most beautiful archaeological treasures and rare masterpieces of texts, books, coins and renovated houses that represent the region's fascinating heritage. Do not miss visiting the Hajj and Two Holy Mosques exhibitions, which showcase models and multimedia that embody the rituals of Hajj and its development of ancient roads between Mecca and Medina.
---