Articles
/
The beauty of Yanbu's Lake Park
The beauty of Yanbu's Lake Park
البحيرة الاصطناعية في ينبع الصناعية
Source: Nadeen Al-Wazani
If you love natural scenery and happen to be in Yanbu, do consider checking out the artificial lake at the aptly-named Lake Park. Resembling a natural location with its banks, islands and greenery, it is situated in the industrial city along the Mina (Port) Street next to the Equestrian Center, which organizes many competitions and endurance races. It is also located near the iconic monument statue, where visitors can enjoy a stroll down the purpose-built walkways.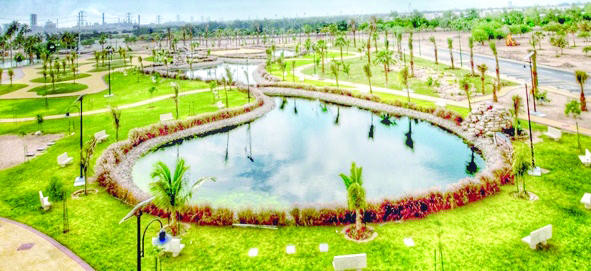 The park has a bird garden that attracts migratory birds. It covers an area of more than 3,000 square meters while the lake has a capacity of 4,175 cubic meters. There are many facilities and services such as Wi-Fi, toilets, coffee shop, children's playgrounds, parking lots, walkways and beautiful places to sit by the lake banks. It is also surrounded by vast areas with wild plants, palm trees and shrubs.
A number of marine creatures such as turtles live in this artificial lake. There are also four small waterfalls with a special night lighting system allowing visitors to walk around and enjoy unique breathtaking views.
It is an ideal picnic destination for all the family and attracts many visitors looking to enjoy the tranquil atmosphere and cool breezes, especially during the fall and spring seasons. The Royal Commission in Yanbu opened the lake park as one of its many recreational facilities for residents and visitors.
---