Articles
/
The charming waterfalls of Khaira Forest
The charming waterfalls of Khaira Forest
شلالات غابة "خيرة" في الباحة تجذب هواة التصوير
Source: Khuloud Al-Saleh
One of the most beautiful areas in the south of Saudi Arabia, Al-Baha's Khaira Forest offers breathtaking beauty. The location's name is derived from its abundant water sources such as waterfalls that cascade from green agricultural pockets around 20,000 meters wide in total, creating a stunning natural landscape that attracts tourists from inside and outside the Kingdom.
Also called Khaira Waterfalls, Jader Waterfalls or Prince Mishari Park, the waterfalls pass through a two-kilometer valley and fills picturesque lakes where families meet to barbecue and enjoy the charming nature. There is also a playground area for children.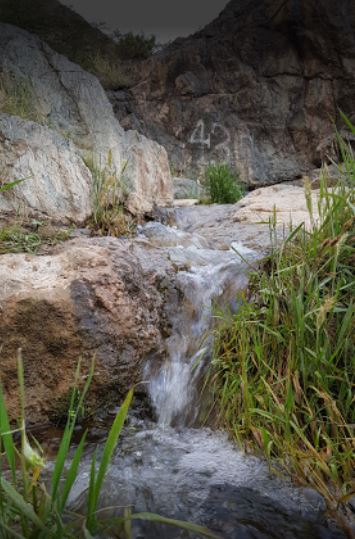 The area has a football pitch as well as walkways in the forest and on the main road so visitors can easily access the location and enjoy its nature. Heritage resorts that embody regional architecture are also under construction.
Heavy rainfall in the region contributes to the breathtaking beauty of these forests during certain seasons, while the mountains are filled with wild olive and rare juniper trees. Rainwater cascade from those mountains into the valleys, where the locals have constructed underground channels with a length of around 100 meters and width of one meter so that their farms are irrigated effectively without being drowned in water. These green areas are considered attractive tourist destinations for visitors.
Such an abundance of water has led to the creation of natural wells inside rocky cavities, increasing the fertility of the land. Locals have taken advantage by planting wheat, barley, olives, corn, pomegranate and apple, while their apiaries are dispersed along the mountains and produce some of the finest mountain honey in the world.
---