Articles
/
The historical monument of Bin Raqoush Palace in Al-Baha
The historical monument of Bin Raqoush Palace in Al-Baha
قصر "بن رقوش" أحد المعالم التاريخية العريقة في الباحة
Source: Khuloud Al-Saleh
Al-Baha region contains many historical castles and forts built of mud and rocks that attracts tourists and visitors from inside and outside the Kingdom, especially because of its stunning nature overlooking Hijaz mountains and mild climate throughout the year. One of the most prominent palaces that tells the historical legacy of Al Baha is Bin Raqoush Palace, which was built in 1833.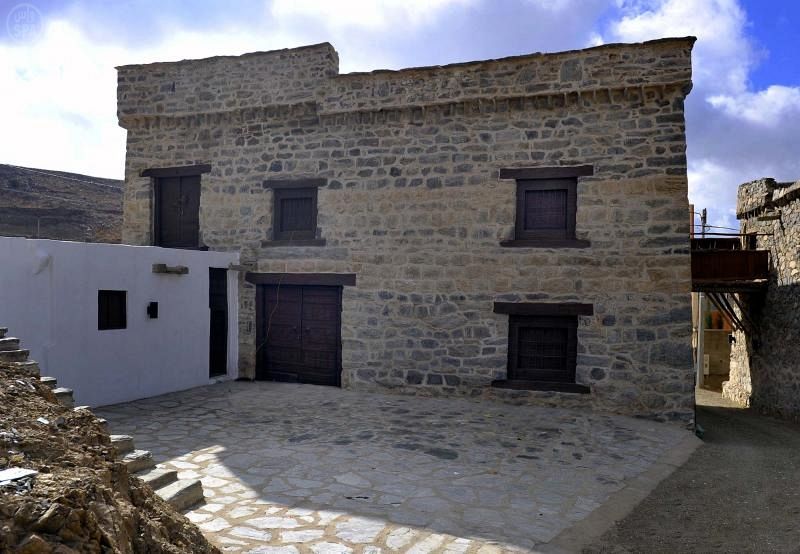 The historical palace received a visit from King Saud bin Abdulaziz in 1954. Being an architectural masterpiece, its walls, floors, and roofs were restored and rehabilitated while preserving its local identity and cultural heritage. Because of its historical significance, many heritage activities are held on the palace during national and social occasions.
The palace was built by the Bin Raqoush family, one of the families of the region. It consists of five large houses of varying floor levels, including up to three floors. It is described as an integrated housing compound, where there is a small school, living areas, horse stables, a mosque, and orchards. In addition, the palace contains many bedrooms, a large living area for the tribe, a water well, an inner courtyard, and two outside courtyards around the palace.
Photo credit: SPA
---