Articles
/
A visit to Al-Ahsa's enduring Qaisariah market
A visit to Al-Ahsa's enduring Qaisariah market
سوق القيصرية التاريخي... أيقونة الأحساء
Source: Nadeen Al-Wazani
The eastern Al-Ahsa region is rich in heritage sites dating back hundreds of years, including one of the Kingdom's most historical markets - Qaisariah souk. Located in the Al-Rifaa district of Hofuf city, the location attracts many visitors and regularly participates in national festivals such as Janadriyah. The souk plays a vital economic and cultural role by promoting traditional industries and products.
Architecture
The market features around 420 small shops whose designs reflects the ancient heritage of the Eastern Province and is characterized by closed alleys and elevated roofing to ensure good ventilation and plenty of natural light as visitors wander through.
Another feature of the souk are its kabnaks, which are furniture consisting of three pieces fixed to the shop doors. One piece is for the shopkeepers to sit on, another is for storing rice and coffee, and the third is fastened to the wall above the head.
Merchandise
Qaisariah market displays a diverse range of merchandise, including the following: copper, leather, footwear, gold, watches, perfumes, textiles, hand-sewn clothing, traditional medicines, rugs, fashion accessories, abayas, household furniture, electrical appliances, household utensils, and food products.Other services available include money exchanges, a hotel and furnished apartments.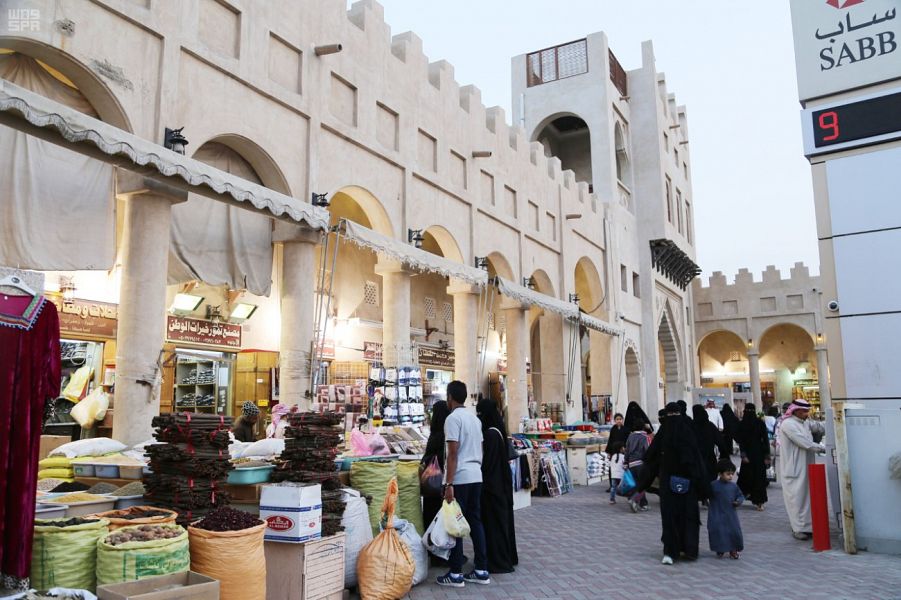 History
According to historians, the market was built in 1822 and later restored during the reign of Saudi Arabia's founder King Abdulaziz. It is also believed that the market was built on high ground and its shops had terraces that protect them from rainwater in the streets and provided visitors with a place to sit so they could take their time to browse merchandise before purchasing.
---