Articles
/
The iconic mountain roads of the south
The iconic mountain roads of the south
"عقبات الجنوب" لوحات فنية نحتت على الجبال
Source: Khuloud Al-Saleh & Abeer Al-Amoudi
The main way people and vehicles traversed the Kingdom's rugged south since the ancient times was to use the region's mountain roads. These roads are named "aqaba", which means "obstacle" in English. Numerous roads in the rural and urban areas have been dug through the mountain slopes, mainly to connect Tihama with the Sarawat mountain range. The summit of these mountain reach up to thousands of meters high. Recently the government paved these mountain roads and provided good lighting to mitigate incidents involving rockfalls or flooding caused by torrential rain. Below, Wafy covers the most important mountain roads of the south where you can stop and take the perfect photo from top.
Al-Khashabah Road (click here)
This is one of the most important mountainous roads linking the northern Tihama range and Khath'am center. Around 50 kilometers long, it facilitates the movement of residents in the region and provide services to thousands of tourists looking for easy access to historical monuments in the region, including fortresses that date back 500 years.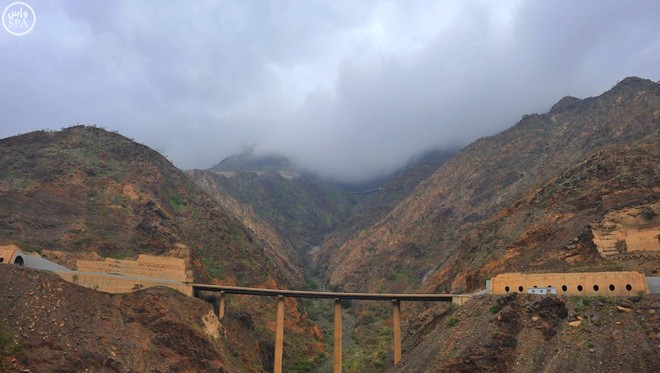 This road cuts through the Sarawat Mountains and offers a majestic view of stone buildings and farms on the edge of the mountains. While travelling down the road, you will see many trees as well as waterfalls along the valleys that captivate tourists on their way to the ancient village of Thee Ain.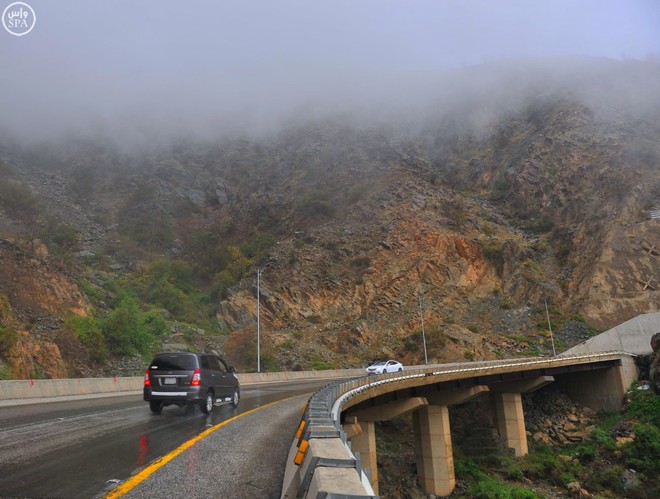 King Fahd Road, Al-Baha (click here)
This wonderful road penetrates mountains to connect Tihama with the Sarawat mountain range, which increased the pace of economic, agricultural, and urban development. It is interspersed with 25 tunnels and 62 bridges.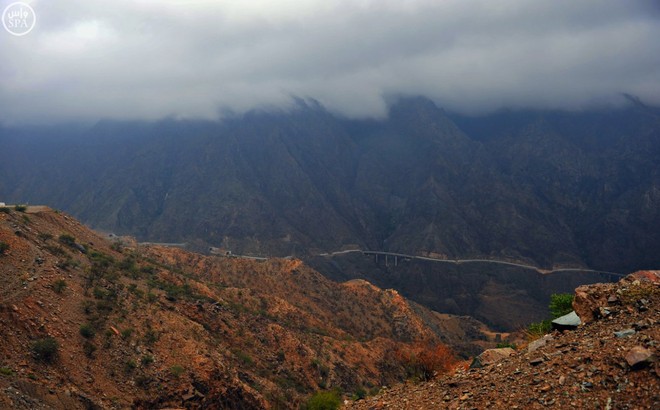 This 42-km-long road was built in four phases at a total cost of 450 million riyals, in order to connect Asir and Abha region with Jazan. There are 13 bridges and two tunnels of 660 meters in length.
Sha'af Road Belqarn (click here)
Sha`af Road connects Belqarn Governorate between the northernmost region of Asir and southwest of Makkah, and thus connecting Abha to Jazan and Taif.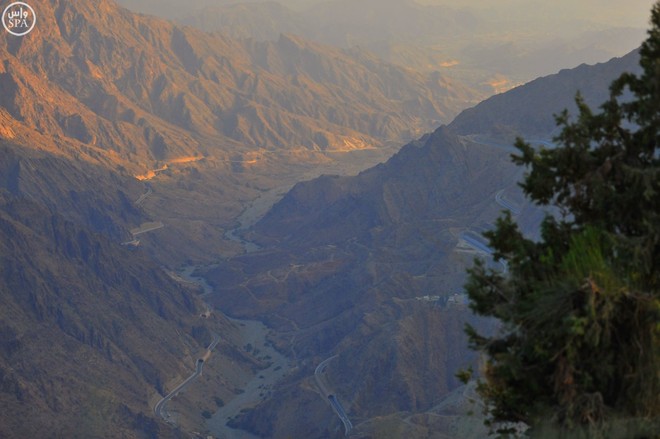 Nisab Alyan Road, Bashot Center
This stunning road in the Bashot Center in Belqarn Governorate is built in an amazing architectural way overlooking a breathtaking view that captivate viewers.
Zarya Road
This mountain road extends from the heights of Sarawat Mountains in Belqarn province, which was a very useful project that served all the people of the region.
It was opened in 1417 AH to connect the top of Souda Mountains to the Sharaf villages of Al Baha and reaching down to Rijal Al-Alma governorate with a length of 7 km. This mountain road is fully equipped with lighting, and offers unique and wonderful panoramic views that tourists enjoy to take different pictures of the breathtaking nature.
---